Display screen media players have become an essential tool for stores in today's digital age. These devices offer numerous benefits, from enhanced advertising capabilities to improved customer engagement and interaction.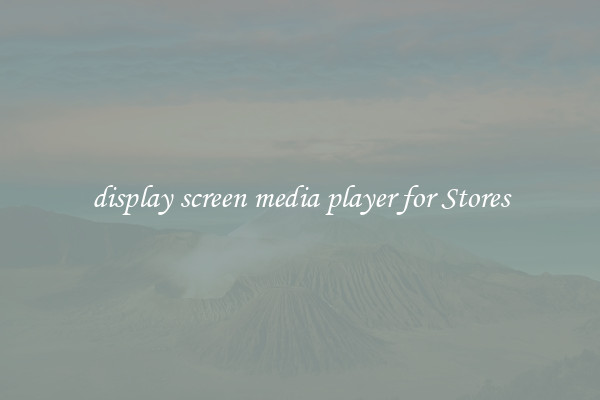 One of the primary advantages of display screen media players is their ability to grab customers' attention and promote products or services effectively. With eye-catching visuals and vivid displays, these devices create a captivating experience for customers, enticing them to explore the store further and potentially make a purchase. By showcasing appealing content, such as promotional videos or new product offerings, stores can effectively drive sales and increase their revenue.
Furthermore, display screen media players enable stores to create a dynamic and interactive shopping environment. By integrating touch screen capabilities, stores can provide customers with a personalized experience. Customers can browse through an interactive catalog, learn more about products, check prices, and even make a purchase directly from the display screen. This not only saves time but also enhances convenience for shoppers.
Store owners also benefit from display screen media players through the ability to update content easily and quickly. These devices can be connected to a central server, allowing store managers to remotely update content in real-time. For example, if a store is running a special promotion, the display screen media player can be updated with the latest offers, ensuring that customers are aware of the deals at all times. This flexibility gives store owners greater control over their marketing strategies and enables them to be more agile in response to market trends and consumer demands.
Additionally, display screen media players have proven to be a more cost-effective and eco-friendly solution compared to traditional print advertising. By opting for digital displays, stores eliminate the recurring costs of printing and distributing physical signage. Moreover, digital signage is a sustainable alternative, reducing paper waste and its associated environmental impact.
In conclusion, display screen media players have revolutionized the retail industry by providing stores with a powerful marketing tool. Thanks to their engaging visuals, interactive features, and ease of content management, these devices offer a myriad of benefits for both store owners and their customers. From driving sales and enhancing customer experiences to cost savings and sustainability, display screen media players have undoubtedly become an indispensable asset for stores.