Gift-giving is an art, and DIY gifts have a charm of their own. There's something special about receiving a handmade gift that was created with love and care. If you're looking for attractive DIY gift ideas, we've got you covered! Whether it's for a birthday, anniversary, or any other special occasion, these gift ideas in various colors are sure to leave a lasting impression.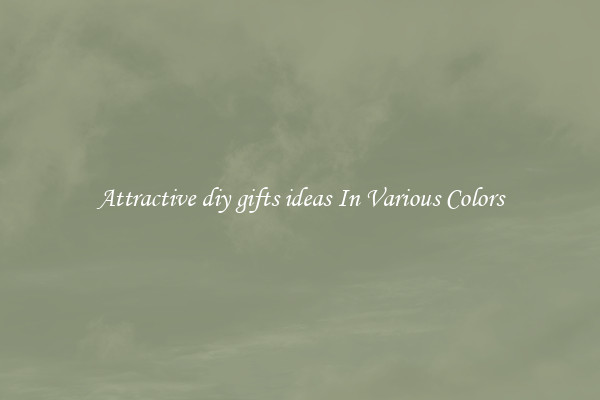 1. Hand-painted mugs: Personalized mugs are a popular gift choice. Get a plain white mug and unleash your creativity with colorful ceramic paints. Write a heartfelt message, draw their favorite cartoon character, or create a beautiful pattern. The possibilities are endless!
2. Tie-dye t-shirts: Tie-dye has made a comeback, and it's a versatile technique that allows you to experiment with different colors. Grab a plain white t-shirt, choose your favorite colors, and create beautiful patterns using the tie-dye method. It's a great way to make a fashion statement with a personalized touch.
3. Homemade candles: Candles add warmth and cosiness to any space. Create your own scented candles in various colors using wax, wicks, and essential oils. Add a personal touch by choosing colors that reflect the recipient's personality or decor preferences.
4. Wooden photo frames: Immortalize precious memories by gifting a customized photo frame. Buy a plain wooden frame, paint it in vibrant colors, and add your favorite pictures. It's a thoughtful gift that showcases your creativity and emotional connection.
5. Crocheted accessories: From scarves to hats, crocheted accessories are both practical and stylish. If you have basic crochet skills, consider making a colorful scarf or a hat in the recipient's favorite colors. It's a gift that keeps them warm in the winter while adding a touch of personal style.
6. Terrariums: Indoor plants are a popular home decor trend, and creating a colorful terrarium is a unique gift idea. Get a glass container, layer it with colorful pebbles, soil, and small plants or succulents. It's a low-maintenance gift that brings nature indoors and adds a splash of color to any room.
7. Painted flower pots: Transform plain terracotta pots into eye-catching pieces of art. Use acrylic paints to create patterns, write inspirational messages, or simply paint them in bright, cheerful colors. These personalized flower pots are perfect for anyone with a green thumb or those who love gardening.
In conclusion, DIY gifts are a thoughtful and creative way to show your loved ones you care. With these attractive gift ideas in various colors, you can add a personal touch to your presents while making them visually appealing. Remember, the beauty of DIY gifts lies in the time, effort, and love you put into creating something unique and special. So get your creative juices flowing, and start crafting!